Sabine Feindura is a Partner and head of the Labour and Employment Law practice group at BUSE. She was awarded Recommended Lawyer 2015 by the LEGAL 500 EMEA. She advises both German and international clients on all legal aspects of employment. Her clients include international groups and listed companies, as well as small and medium-sized enterprises and public service organisations.
Sabine Feindura supports her clients in recruiting new personnel, negotiating company and collective agreements, as well as drafting warning letters and termination agreements. She drafts contracts, provides out-of-court advice and litigates in labour proceedings at communal, state and federal jurisdiction levels. With 30 years' professional experience in labour law, she provides well-founded and solution-oriented legal advice in respect for her clients' managerial needs. She is a popular speaker on human resource issues for businesses in Germany and frequently publishes on labour law issues in legal journals and newspapers.
Sabine Feindura was admitted to the Berlin Bar in 1993 and was accredited as a specialist in employment law in 1995. Between 1993 and 2001, she was a Partner at the Berlin office as well as head of the Budapest office of another large international law firm. From 2000 to 2013, she was a member of the board of the Berlin Bar Association and, from 2005 to 2009, a member of the Berlin Bar's Admissions Committee, responsible for accrediting lawyers as specialists in employment law.
Sabine Feindura is a member of the European Employment Lawyers Association (EELA) as well as the International Bar Association, Labour Law Section (IBA).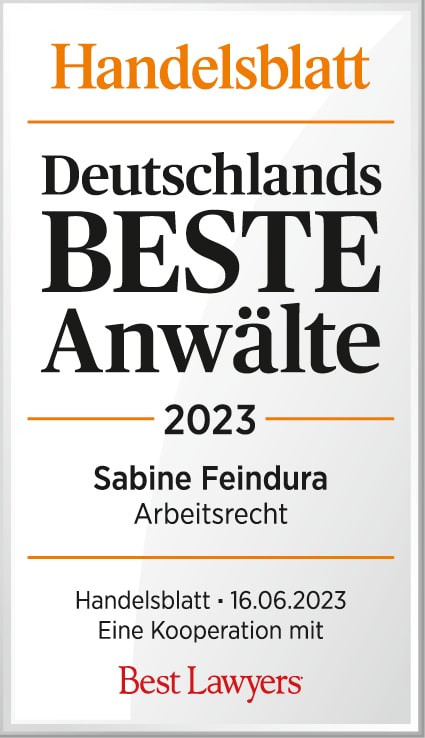 Core Topics
Support of domestic and foreign Companies with responsive advice in all issues with German labor law
Representation of Executives in situations of conflict and/or separation
Immigration Law: Application for work permits and residence permits on behalf of employers
Labor Lease / Temp workers: Supporting companies in all aspects of labor lease as application and extension of license, paperwork to observe statutory rules of AÜG, etc.
Awards
Deutschlands Beste Anwälte 2019 – 2023 Handelsblatt
Publications
Sabine Feindura has published many articles in professional publications. She has also contributed to commentaries and reference books.
Lectures
Over the years, she has given lectures on employment law at a number of public and inhouse seminars, e. g.:
drafting employment contracts
optimising the terms of employment contracts
limitation of employment contracts
termination of employment in compliance with current law
negotiating termination agreements
reduction of personnel costs
how to deal with works councils
negotiating collective agreements