Dr Alexander Krol is a lawyer, certified specialist in employment law and Partner at BUSE.
He advises national and international clients on all questions concerning individual and collective employment law. Dr Alexander Krol is an expert in the preparation and realisation of restructuring measures, in the preparation and negotiation of employment contracts and collective factory agreements as well as in the field of temporary-employment agency work. He is a member of the Labour and Employment Law practice group.
Awards
Deutschlands Beste Anwälte 2017-2023, Handelsblatt
Legal500 Deutschland, empfohlener Anwalt 2015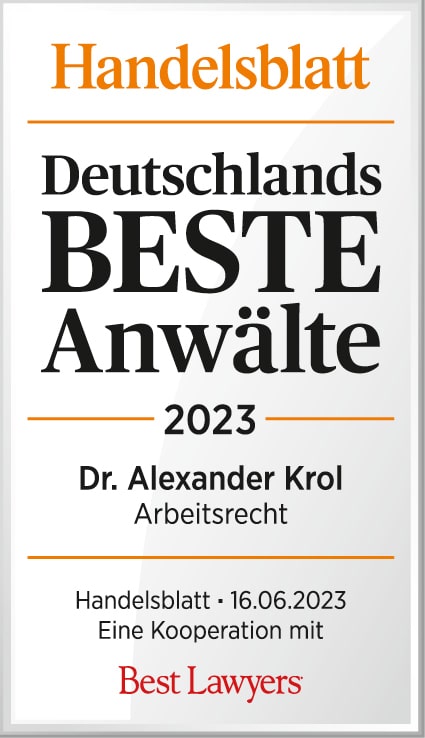 Publications
Verfassungskonforme Auslegung des Verbots einer sachgrundlosen Befristung im Fall einer Vorbeschäftigung, Dr. Alexander Krol // Der Betrieb vom 10.05.2021, Heft 19, Seite 1018, DB1359455
Verzugspauschale bei Verzug des Arbeitgebers mit Entgeltzahlung, Dr. Alexander Krol // Der Betrieb 01.03.2019, Heft 09, Seite 493
Fortsetzung der Tätigkeit im Entleihbetrieb nach Befristungsende führt nicht automatisch zu unbefristetem Arbeitsverhältnis mit dem Verleiher, Dr. Alexander Krol // Der Betrieb 02.06.2017, Heft 22, Seite 1273 F
Voraussetzungen einer mitbestimmungspflichtigen Versetzung, Dr. Alexander Krol // Der Betrieb 17.05.2017, online, DB1235970
Außerordentliche Kündigung bei beharrlichem Verstoß gegen Gleitzeitgrundsätze, Dr. Alexander Krol // Der Betrieb 13.04.2017, Heft 15, Seite 850
Nicht jeder Arbeitnehmer hat Anspruch auf einen rauchfreien Arbeitsplatz, Dr. Alexander Krol // Der Betrieb 26.08.2016, online Blog-Beitrag, DB1215136
Rechtssicherheit und Wirtschaftlichkeit bei befristeten Arbeitsverträgen und Aushilfskräften, Dr. Alexander Krol // Betriebswirtschaftliche Strategien für die Abfallwirtschaft und Stadtreinigung, 2014, Seite 99 ff
"Managementwissen für die Produktion, Das juristische Know-how", Dr. Alexander Krol // 2013, Dr. Mathias Kühnreich/Alexander Krol (Herausgeber: Management Circle)
Fallstricke und Gestaltungsmöglichkeiten: "Die betriebliche Ausbildung", Dr. Alexander Krol // Arbeit und Arbeitsrecht 2007, S. 598 ff.
"Sozialauswahl bei betriebsbedingter Kündigung", Dr. Alexander Krol // Urteilsbesprechung BAG vom 06.09.2007 – 2 AZR 387/06, Arbeit und Arbeitsrecht 2009, S. 120
"Die Bindungswirkung des Interessenausgleichs und seine Fortgeltung nach einem Betriebsübergang", Dr. Alexander Krol // Dissertation, Verlag Dr. Kovac, Hamburg 2010
Lectures
Fachreferent Arbeitsrecht Lehrgang "Trends in Logistik und Tourenplanung", Akademie Dr. Obladen, 2019
Fachreferent Arbeitsrecht Lehrgang "Schulung Sachbearbeiter/-in Abfallwirtschaft", Akademie Dr. Obladen, Hannover, 2019
Fachreferent Arbeitsrecht Lehrgang "Der Betriebshof", Akademie Dr. Obladen, 2019
Fachreferent Arbeitsrecht Lehrgang "Betriebsstättenleiter/-in", Akademie Dr. Obladen, 2019
Arbeitsrecht für Führungskräfte, ASB Management-Service-Heidelberg GmbH, Heidelberg, 2014, 2015, 2016
Mindestlohngesetz, Studieninstitut für Kommunale Verwaltung Hellweg-Sauerland Soest, Soest, 2015
Fachreferent Arbeitsrecht, Management Circle, Braunschweig, 2015
Führungswissen Arbeitsrecht, apm³ GmbH, Düsseldorf, 2015, 2019
Rechtssicherheit und Wirtschaftlichkeit bei befristeten Arbeitsverträgen und Aushilfskräften, apm³ GmbH, Betriebswirtschaftliche Strategien für die Abfallwirtschaft und Stadtreinigung, Berlin, 2014
Update Mindestlohn: Diese Regelungen, Sonderfälle und Ausnahmen gelten ab 2015 bundesweit – auch für Sie!, PraxisCampus der Deutschen Wirtschaft, Verlag für die Deutsche Wirtschaft AG, Nürnberg, 2014
Führungswissen Arbeitsrecht, apm³ GmbH, Berlin, 2014
Employment Law in Germany, In-House-Schulung, Düsseldorf 2014
Lehrgang Führungskraft Kommunalbetrieb, Arbeitsrecht, apm³ GmbH, Berlin 2013, 2014, 2015, 2016
Führungswissen Arbeitsrecht, apm³ GmbH, Dortmund 2013
Lehrgang Arbeitsrecht, apm³ GmbH, Lünen 2012, 2013
Arbeitsrecht für Führungskräfte, In-House-Schulung Düsseldorf 2011, 2012, 2013
Betriebliches Eingliederungsmanagement, Management Circle, Ludwigshafen 2012
Arbeitszeugnisse: Rechtssicher formulieren und entschlüsseln, Management Circle, Frankfurt a. Main, 2010