German Labor and Employment Law generally is intended to protect the employee.
As a consequence, human resources directors and executives need practical solutions to comply with the ever-changing legal framework Germany has created for its work force. This Hidden Secret is for them and their international businesses and German operations who want an easy-to-use-legal resource.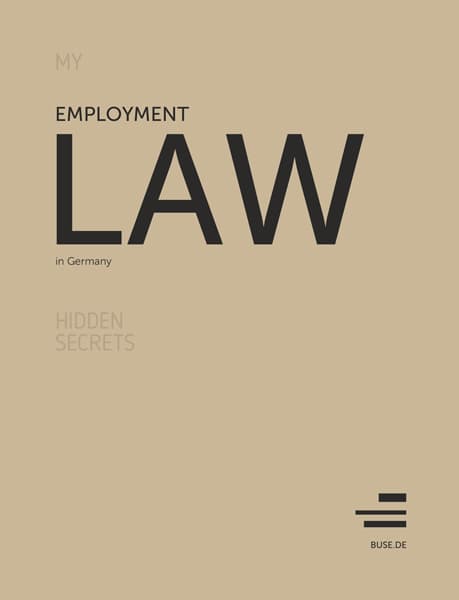 My Hidden Secrets: Employment Law in Germany
It is also available online, as Employment Law in Germany on the go.
The following key words, important to understand the Labor and Employment Law system in Germany are explained:
A
Advance Notice (Redundancies)
Advertising
Applications for Employment
B
Background Investigations
Benefits
C
Care Giver Leave
Child Labor
Covenants Not to Compete
D
Disability Leaves
Discrimination
Discrimination Claims
Drug Testing
E
Employee Injuries/Workers' Compensation
Employment Applications
Employment References
F
Family and other Medical Leaves
Fingerprints
Forms of Employment Agreements
G
Giving Employment References
H
Harassment
Health & Safety
Health Insurance
I
L
M
Meals and Rest Periods
Medical Information
Minimum Age
Minimum Wage
N
Negotiations with Works Council
Non-solicitation of Employees and Customers
O
Off-Duty Conduct
Overtime Issues
P
Paid Sick Leave
Paid Time Off
Paid Vacation
Parental Leave
Payment upon Discharge or Resignation
Personnel Records
Personnel Records and Information
Pregnancy Leave
Privacy
Public Holidays
R
Reconciliation of Interests
Recordkeeping
Recruitment
References
Required Postings
Required Training
S
Searches
Separation Agreements, Use of
Severance Pay
Severance Pay (Redundancies)
Social Compensation Plan
Social Insurance
Social Security Numbers
Surveillance and Monitoring
T
Temporary Worker (Leased Employees)
Termination Claims
Trade Secrets
Transfer of Undertakings (TUPE)
U
Unemployment
Unions
Use of Employment Contracts
Use of Separation Agreements
W
Wage Payments
Whistleblower Protection
Workday
Worker's Compensation
Work Hours
Works Council
Workweek
Wrongful Termination Claims